JOIN THE FUN, SHARE THIS !!!
Loudmouth female Tv and radio presenter born Valentina Nana Agyeiwaa but professionally known as Afia Schwar has courted unpleasant attention for presidential aspirant John Dramani Mahama succeeding the wild allegations she has levelled against the NDC lead-member, Gossips24.com reports.
Recently, chameleon Afia Schwar who was formerly a loyal member of the NDC political party has dedicated her social media pages, precisely Instagram to seriously campaign for Akuffo Addo to retain power after the forthcoming general elections.
According to Afia Schwar, she dumped the NDC for the NPP because of Akuffo Addo's free SHS policy which her two sons have heavily benefited from the initiative.
And then came the bombshell when an Ig user who's clearly an NDC member slammed Afia Schwar for predicting that John Mahama will woefully lose the impending elections. because she's not God.
That was the moment Afia began to offload the dirty secrets under the NDC's member's comment. Unforgiving Afia Schwar wrote:
…but how will the People with the vote feel about ….the money he gives to his b*tches..Don't Dare Me to tell Ghanaians about Jesus! Ask John Mahama about his spintex connection…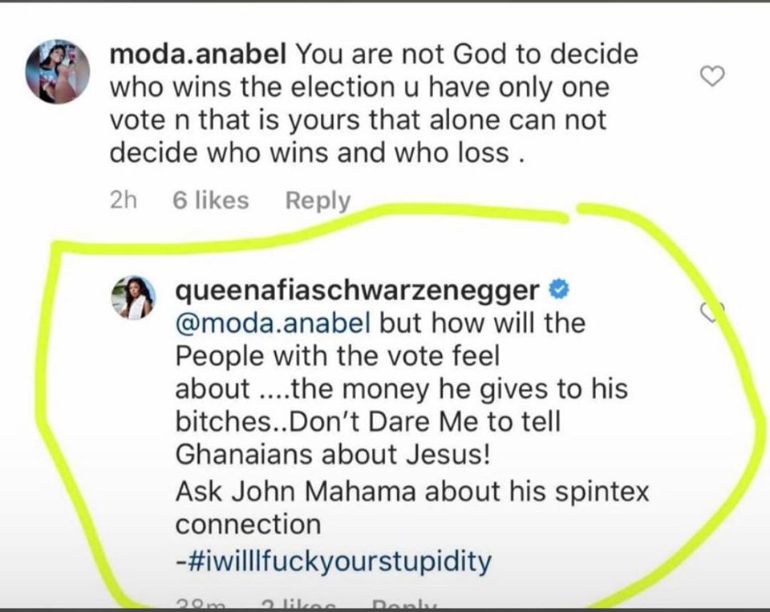 At the moment John Mahama is being suspected as the alleged sugar daddy Tracey Boakye and Mzbel are fighting over.
Source: Gossips24.com
JOIN THE FUN, SHARE THIS !!!