Shatta Wale yesterday uploaded a photo on his Instagram page and captioned it: "This is real loyalty … #Thereign" and social media users didn't take it lightly with the dancehall genius as they descended heavily him and the SM fan who has tattooed 'SM 4 life' and his 'Reign' album logo on his face to prove his love for popular dancehall artiste.
According to Instagram users, it is wrong for the SM fan to go to the extent of tattooing such an inscription on his face knowing well that his idol wouldn't do that.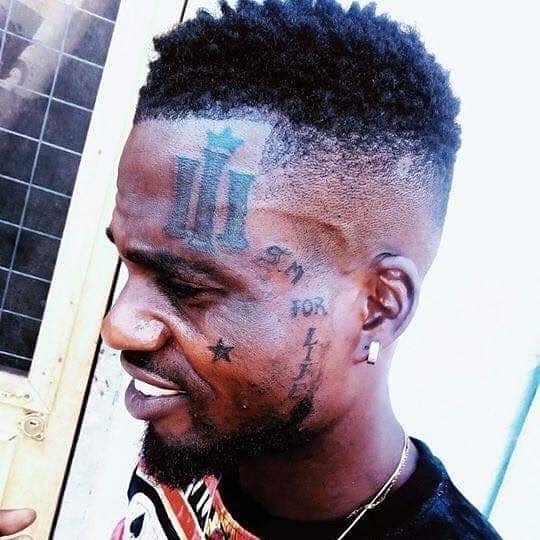 The photo as at the time it was posted on Instagram by Shatta Wale has received a lot of backlashes from social media users on the platform.
Even though Shatta Wale happily posted the photo to reveal the loyalty of the SM fan, most Ghanaians see the move as 'foolishness' and flooded his comment section with challenges, advice and insults.
Read some of the comments below…
@benjilox: "That's the most stupid tattoo I have ever seen in my life."
@yaa_serwaah1093: "This is not loyalty oooh…I don't even think u Shatta,if u r given billions of dollars to do that,u will do it…wo koraa wo yem shee wo and u said this person be fool oooh."
@marilynquaye: "You shall not make any cuttings in your flesh for the dead, nor tattoo any marks on you: I am the Lord . Leviticus 19:28"
@_mr.opoku_: "U go and do this foolish tins and the only thing you get as appreciation is being posted on ig?????…tramol paa de3 eno good ooo"
@seven_4_africa: "Mumu which yeye loyalty ..u shatta make u sef tattoo the guy name for ur forhead." @sir_bright12 begged Shatta to do something for his fan: "Shatta abeg his sacrifice be in vain please do something for him."
@kjuls_: "Its only ugly guys that will do these.. Ugly guys like shatta?."
@lewismike666: "Tbh that's dumb af. I really love your music but wouldn't be that s**pid to tat you on ma face.
Source: Ghpage.com