JOIN THE FUN, SHARE THIS !!!
It can now be established that Sarkodie has been given Asem nightmares with the stardom feat he has achieved with his music career.
For times without a number, bitter and jealous Asem has thrown indirect jabs at Sarkodie with the slightest opportunity he gets or on any platform he finds himself on.
Latest severe criticisms from the camp of the popular underground act, Asem, are pointless and needless comments on Sarkodie's political ambitions. Most importantly his decision on contesting for presidency in 2024.
According to Asem, Sarkodie does not qualify for the presidency because he can't even win a rap battle against him. Resorting to his twitter page to spew such "nonfa" and "borla" opinion, Asem tweeted;
As for that other wack empty sack rapper too e say what ?Talk is cheap you can't even face me in a rap battle you are boasting of running for what ? The only thing you're running from is ASEM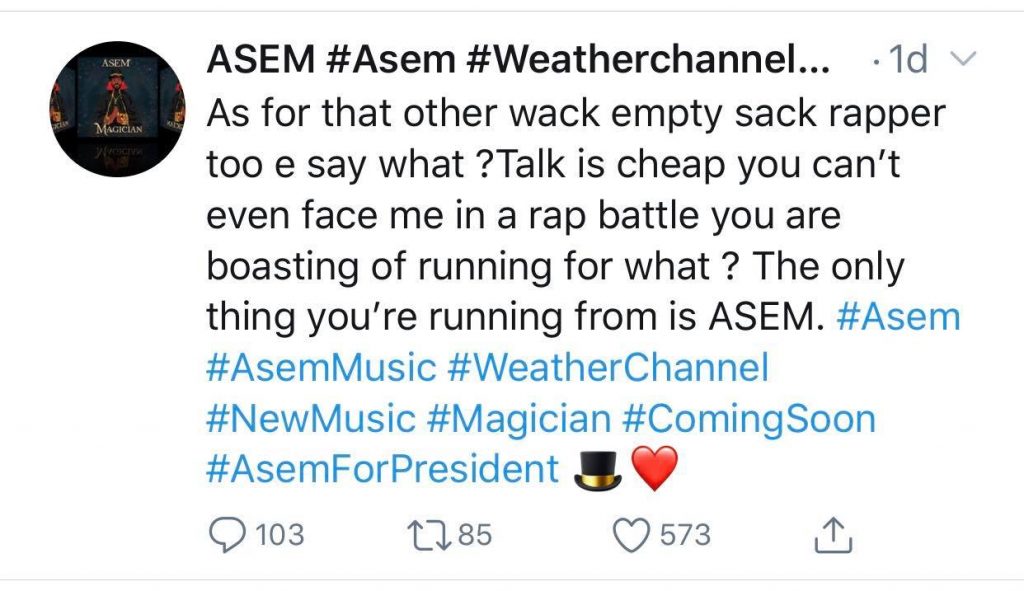 Source: Gossips24.com
JOIN THE FUN, SHARE THIS !!!