Go and look for your struggling sons – OB Nartey shames Sonnie Badu for calling Kuami Eugene his son
Vision 1 FM host, Kwame OB has shamed Ghanaian UK-based Gospel musician, Sonnie Badu for congratulating Kuami Eugene for his big win at the recently held Vodafone Ghana Music Awards.
Sonnie Badu in a post on his Facebook called Kuami Eugene his son and to congratulated him for emerging as the Artiste of the year.
He wrote; "Congratulations my son, @kuamieeugene remember the secret is humility, hard work, and prayer… much love… its purple."
Reacting to Sonnie's post, OB Nartey said he had a problem with Sonnie Badu calling Kuami Eugene his "son" when there were other people in gospel ministry who the Wonder God crooner had to help lift up.
Kwame OB Nartey indicated that Sonnie Badu had neglected some talented gospel singers who had been loyal to him and charged the pastor to fulfil his promises to them.
He posted on facebook:
"Good morning Sofo Badu, Go and look for your sons who are struggling in the Gospel industry and stop this unnecessary fame attachments. Noor Congratulations my son Kwame Eugene laughable. This "Don King" spirit won't help you, the boys who served you are still waiting for you to give them the necessary push and features you promised them.The likes of Max Praise, Yohan, Tino Manford, Royal Chris, Kofi Perprah. You left the Gospel personalities who made us proud to go and claim fathership. What should Baba Sadiq call Kwame Eugene?"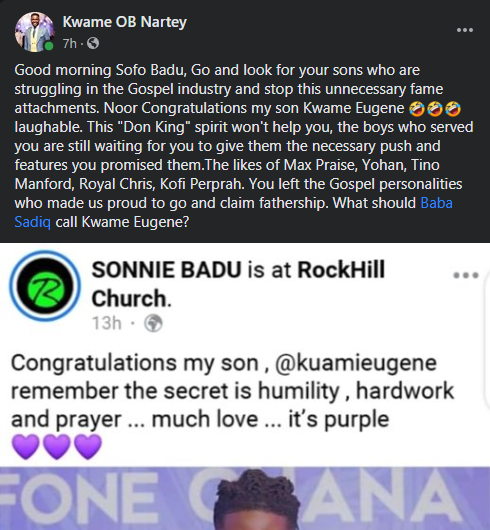 Indeed Kuami Eugene's award as the artiste of the year has triggered mixed reactions with some fans claiming he did not deserve it and others thinking otherwise.
Source: Gossips24.com