One instagram user has been on the nerves of Gloria Sarfo and she cannot take it anymore after several times of intimidation by the fan who always blasts the actress for her fashion sense.
A caring fan of Gloria Sarfo has asked the actress cum tv hostess to change her fashion sense and take inspiration from the likes of Sandra Ankobia. According to the instagram user who is a follower of Gloria Sarfo, the actress wears the clothes she sells which are china goods – not original.
The follower, Naomi, commented on a previous post made by the actress asking her to work on her fashion sense. As though that was not enough, under another post she asked Gloria to work on her wardrobe for it is filled with China clothes. In her last comment, she asked the tv hostess and actress to learn from her colleagues, she wrote;
"Add class to ur fashion sense if u sell them doesn't mean u should wear them , look at the likes of Sandra Ankobia , Akosua Vee for ur fanshion inspiration"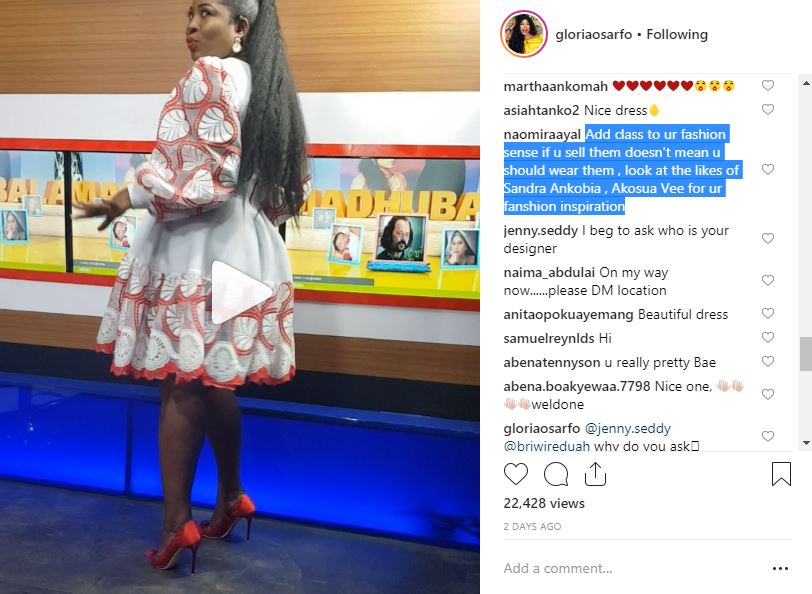 Reacting to the comments, the Angel TV presenter stated, there are many things negative that people say about her on social media she will easily allow to slide by because of her accommodative nature, but the one thing she does not and will ever appreciate is somebody comparing her with others.
In a photo sighted by Gossips24.com on the wall of the "Glow City Boutique And Salon" boss, she spells it out in clear terms that this fan who goes by the username Noami Raayal is "VERY VERY STUPID" to compare her with others.
Gloria Sarfo further uses the caption of the post she put on her wall to also mock this follower and also state categorically that if any of her social media followers cannot stand the things she posts on her handle they should find their way out because she will never stop promoting the products of her salon and boutique.
"Sometimes they need to taste a piece of us
Just a lil piece
"Fanshion Inspiration" Indeed
#Democracy
The Gloria Sarfo brand will promote the GlowCity brand "until forever" Deal with it
Why the "HATE" tho aah hwE n'anim bi
Now i know where all this is coming from(They cant just stand my shine) God deal with them for me la" she wrote.
Check out her full post below: