The former" Trotro"and" Cow and Chicken" actor Funny Face has been on the chop boards of the media for some sad reasons concerning his baby mama and his twins.
Funny face has been dubbed as a drama king by fans because he rants about his personal issues with his baby mama. Funny face is now pouring insults on Maame Yeboah Asiedu for turning his wife against him.
According to Funny Face, his baby mama was convinced to leave him because of the advise she received from the former UTV presenter Maame Asideu.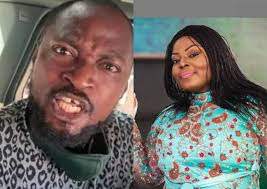 The former presenter however has narrated her side of the story saying she has no idea of what the comic actor is talking about because she was even the one who tried to reconcile both of them once again.
This reaction by Funny Face made some fans to tell the actor to get hold of himself and stop stooping too low for his baby mama.
Source:Gossips24.Com