Young Man who is already married with a kid busted for looking for a wife in a Facebook group (+screenshots)
A young man has been busted on Facebook for presenting himself in a public group on the social platform as single and searching.
The man who has been identified as Ibrahim Abdul Wadud took to Tried & True, a group with over hundred thousand members to advertise himself.
Sharing a photo of himself, Abdul Wadud said, "Something tells me my wife is here and she needs MOMO…
Baby which network…?"
Apparently the lines used by Abdul are tactics most men on the social platform use to corn women.
However, Abdul's case landed in the wrong group as he was exposed big time by one Okyere Nana Nyarko Ernest.
Ernest shared a photo of Abdul with his wife and kid saying, "Opana is already married with kid". The said comment got over 150 reactions and 90 replies but none of them was a rebuttal or disclaimer from Abdul.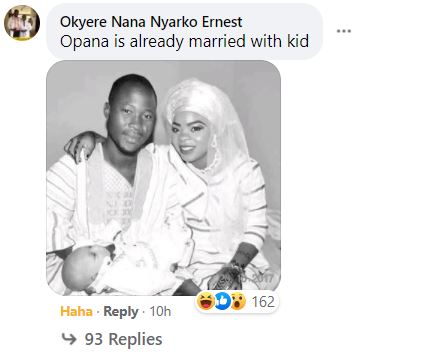 What on earth will cause a man to disgrace himself this way on social media? How horny can one be? – lol.
SOURCE: Gossips24.com