JOIN THE FUN, SHARE THIS !!!
One-time Grammy nominee, Livingstone Etse Satekla, popularly known as Stonebwoy has called out Asaase Radio to be transparent in the declaration of the winner of the grand prize for the just-ended polls.
Asaase Radio, prior to the clash between Stonebwoy and Shatta Wale, launched a portal where fans of both musicians could cast their votes for a charge of 0.50p per vote.
Before the final event came off, Shatta Wale had taken the lead with a little above 160,000 votes and Stonebwoy with something above 159,000 votes.
Per the final votes, many declared Shatta Wale and his SM family winners of the grand prize since he led the polls.
However, days after the event and voting was closed, Stonebwoy has taken to twitter to call out organizers of the event for accountability.
According to the musician, he believes Asaase Radio must present a "highly transparent audit" of who emerged the highest voter at the end of the voting process.
"I and Bhimnation Have Not Given Our Concerns For Any Presentation Of The Highest Voter At The #asaaseSoundClash We Demand A Highly Transparent Audit Without Reasonable Doubt To The Good People of Ghana Who Voted With their Hard Earned Corona Currency.. @asaaseradio995," he stated in a tweet.
Asaase Radio, on the other hand, are yet to announce the winner of the grand prize, and we all hope they do that soon to save us from another banter between the musicians.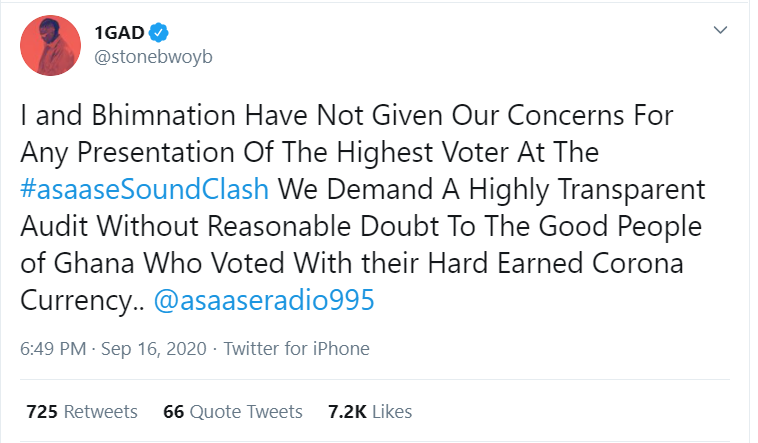 SOURCE: Gossips24.com
JOIN THE FUN, SHARE THIS !!!