Sister Derby rains insults on a follower who called her a Lesbian – "You are very stupid"
Mongers, video vixen cum musician, Deborah Vanessa, known by us all as Sister Derby, is having a tough time dealing with a few trolls who come at her, every now and then.
Aside from people asking her when she's getting married, Derby has not had a nasty comment on her TL on any of her social media handles that has seen her go this raw as she did this time around.
Ever since Sister Derby broke up with Medikal, it has been one rumour to the other, and one question to the other.
However, this particular social media user who is hiding behind an unknown account sparked a flame at the bad side of Derby this time around after calling her a lesbian.
Reacting to a photo Derby shared on her Instagram page earlier today, spe.cial1994 took to the comment section and wrote; "The lesbian gurl is around ooo around .of applause😂👏🔥👏 medikal chop den dump u now u turn lesbian😂😂"

Angrily, Derby replied; "@spe.cial1994 You are very stupid and childish for such a sexist, misogynistic and patriarchic comment. You are probably obsessed with sex and should seek therapy. Twat."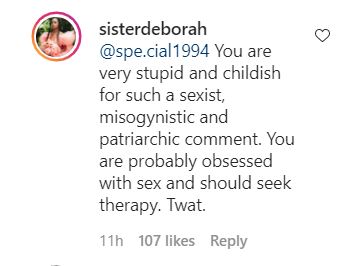 See the post that sparked this whole banter below:
SOURCE: Gossips24.com