JOIN THE FUN, SHARE THIS !!!
Reggae-dancehall giant, Stonebwoy called Shatta Wale a cut and join artiste after the SM boss dropped his collaboration with Alkaline at the just ended Asaase Radio Soundclash.
In the course of the battle between the two dancehall musicians, Shatta Wale called Stonebwoy a local champion after performing his collaboration with Alkaline.
Not long after his performance did Stonebwoy also tag him a 'cut and join' artist. According to Stone, Shatta has never traveled to Jamaica to feature the artistes he claims he has collaborations with, unlike him – Stonebwoy – who has sat, wined and dined, with all the people he has featured.
Though Shatta had little to say on stage, he is back on social media with a video to annul Stonebwoy's statement.
In a video shared by Shatta Wale, Alkaline confirmed he actually met Shatta and that led to the birth of their joint and a remix of one of his songs – ATM.
Alkaline said this whiles speaking to Tim Westwood about his linkup with Shatta. The Jamaican star called Shatta his brother.
"Don't let them lie to you my youth ! Let's keep it real. Big ups to my gee Alkaline," Shatta said in a tweet.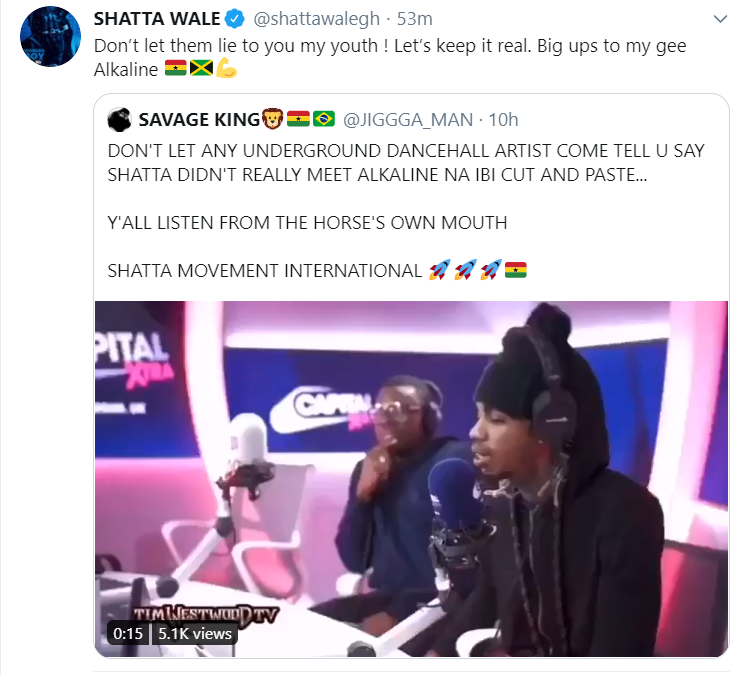 WATCH:
JOIN THE FUN, SHARE THIS !!!