JOIN THE FUN, SHARE THIS !!!
For the past few days, Ghanaians have witnessed a heated banter between two Ashawobrities, Tracey Boakye and Mzbel.
The two have been at each other's neck over sugar daddy whose name has been given as Mahama.
Apparently, the two have been 'draining' down one sponsor and Tracey Boakye who wants everything for herself decided to open the can of worms.
Well, Tracey Boakye has finally ceased fire on her juicy beef with Mzbel after 'Girls Prefect' Nana Aba Anamoah called her to straightens things.
According to the mother of one, her senior and big sister Nana Aba has called to advice her so she has ceased fire.
She wrote, 'I FEEL REALLY BAD NOW AFTER MY SENIORS CALLED AND DISCIPLINED ME 😞. PLEASE, I WONT TALK AGAIN. To all my senior colleagues, fans and family. I WONT TALK AGAIN 🙏🙏🙏🙏. Big sis @thenanaaba IM SORRY 🙏🙏.'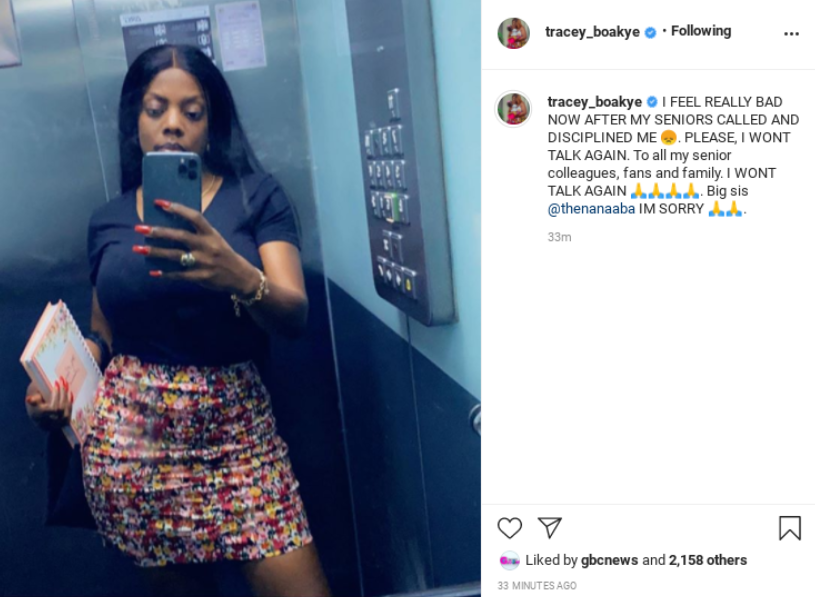 Source: Gossips24.com
JOIN THE FUN, SHARE THIS !!!