Renowned Blogger Israel Boafo Bansah Finally Pays The Fees Of University Students As Promised (screenshots)
There are rich people with Good hearts and it is obvious Israel Boafo Bansah is one of them, no hide and seek – just walks his talks.
The renowned Ghanaian Blogger earlier opened up on social media to sponsor the education of some university students in Ghana.
Initially, Israel Boafo Bansah, who is known to be the CEO of IB Consults and brain behind one of Ghana's biggest educational hub online, promised to pay the fees of two students only, but later opened up to paying three students.
Also, to avoid favoritism, he asked his friends not to partake in the offer, and asked those who need the help to give him valid reasons why he should help them.
In an up close with Gossips24.com, Israel revealed his intention to pay, as we sighted on social media page, is not just for attention but also to help the needy with the little he has made from blogging.
Now, as one of Ghana's richest bloggers, Gossips24.com followed up after 2 months since he made the promise since universities in Ghana will be resuming soon, and guess what, Israel did not just bluff.
It appears I.B Bansah, as he prefers to be called, has paid the tuition fees of the three University Students who were randomly chosen.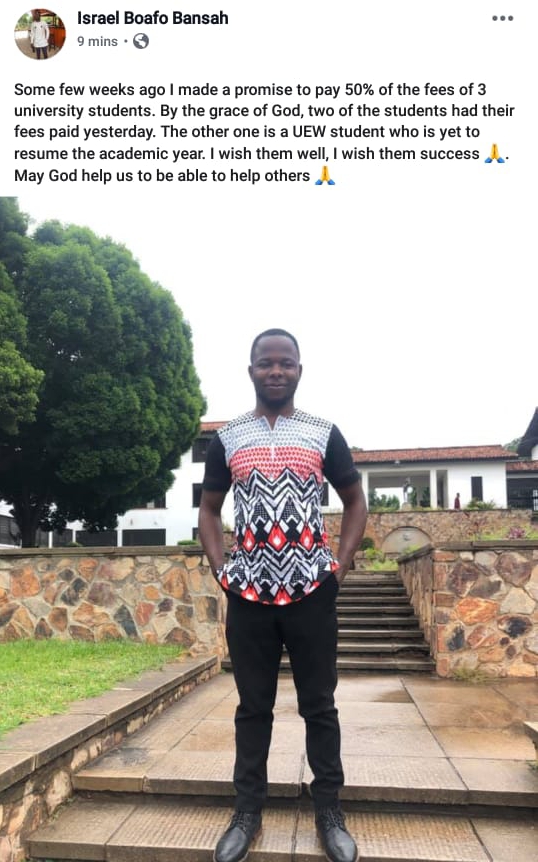 We have in our possession screenshots of transactions between blogger Israel Boafo Bansah and the three university students; a final year student from the University of Winneba, and two others – Simon and Sandra – from University of Ghana, Legon.
The screenshots proves that Israel has delivered his promise. The students who were delighted with the generous act from I.B Bansah thanked him and others took to their social media pages to shower praises on the renowned blogger.