JOIN THE FUN, SHARE THIS !!!
Andrea Owusu, popularly known on social media as Efia Odo has revealed whom she will spoil once she becomes rich.
Efia Odo has been in the news mostly for.. her relationship with Shatta Wale, which is undefined and her love for Kwesi Arthur which is unending.
Efia who was slammed by her mum for giving her just $250 after visiting her in the US has revealed she will spoil Kwesi Arthur with cash when she becomes rich.
Proving her love for the VGMA 2020 Rapper of The Year, She answered a question which read, "If you become rich today ,who is the first person you will spoil with money", saying, "Kwesi Arthur".
It's not surprising that her AVI on Twitter and her cover image is all about the GroundUp talisman.
See screenshot below: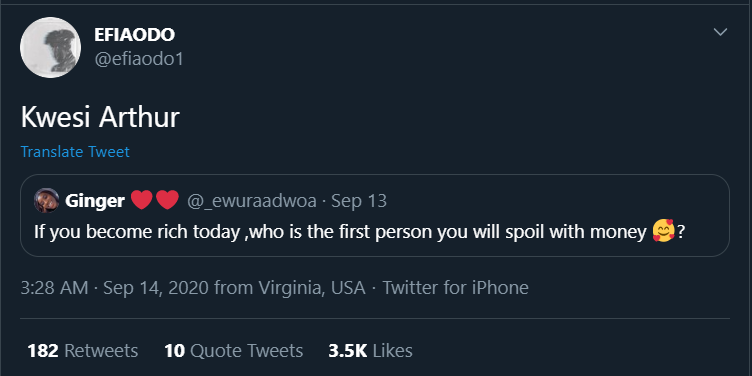 SOURCE: Gossips24.com
JOIN THE FUN, SHARE THIS !!!