Two Marburg virus cases have been confirmed in Ghana by the Ghana Health Service.
In the Ashanti Region of Ghana, there are 2 cases of Marburg virus diseases.
On July 7, 2022, victims were firstly reported in the Ashanti Region.
According to a statement from Dr. Patrick Kuma-Aboagye, Director-General of the Ghana Health Service, the cases were confirmed by testing at the Institute Pasteur in Dakar, Senegal.
GHS reported that it has identified 98 contacts so far, including several from the Savannah Region.
The Health Service says it is continuing with response measures to prevent any further cases while working with all relevant bodies to ensure that no case is missed by the health sector.
The involvement of community-based surveillance volunteers, who operate as the health system's eyes and ears on the ground and who will report any unexpected events to the Ghana Health Service for further action, has enhanced community activities.
Marburg Virus Disease caused by the Marburg virus is a rare but severe hemorrhagic fever that affects both humans and non-human primates and fruit bats are natural hosts of Marburg virus.
The Marburg virus is transmitted to people from animals and spreads among humans through human-to-human transmission from direct contact with body fluids, blood and other discharges from the affected person/animal. The incubations period for the disease is two (2) to twenty-one (21) days.
READ THE STATEMENTS BY GHS;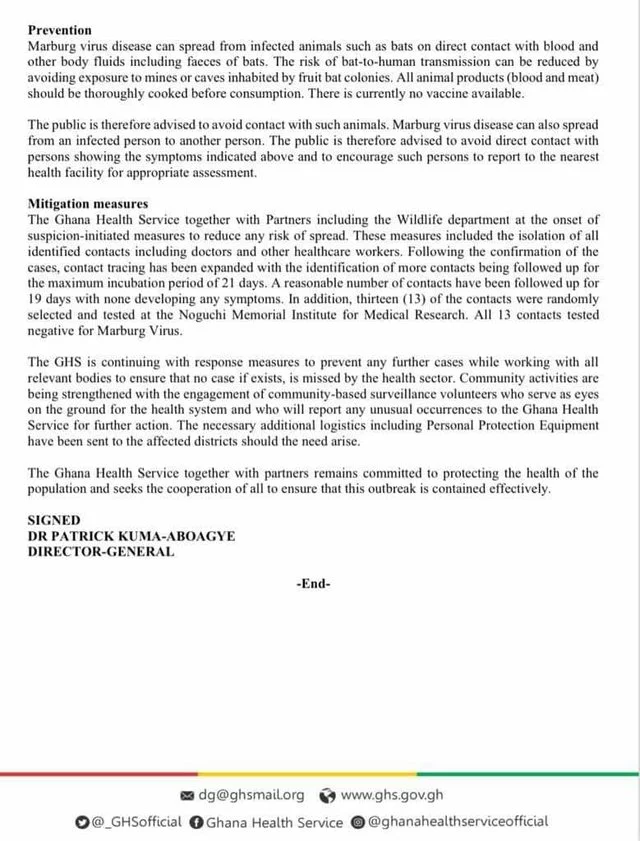 The Ghana Health Service together with other partners remains committed to protect the health of the population and seeks the cooperation of all to ensure that this outbreak is contained effectively.