Andrea Owusu, popular Ghanaian actress, tv presenter, and video vixen, also known as Efia Odo has a few words for all who think she should be a better person.
A lot of Ghanaians have fallen in-love with the personality of Efia Odo and many would wish the actress would present a better version of herself on social media rather than what has been seen of her in recent times.
A concerned tweep who is of this mindset took to twitter to make his wish known to the actress in-line with the aforementioned plea. @BaaduHenry while reacting to an innocent photo Efia wrote; "Efia ankasa no ahh you fine how I wish you could change some things for people to stop talking about you badly"
One would expect Efia to reply nicely or agree to the unpopular opinion of the tweep, however, the actress shove off the wishes of the young man.
According to her, if she was nobody people won't spend time talking about her. Moreover, even God who is deemed Holy and believed to be the Supreme Being, people say all sorts of nasty things about him.
Her reply reads, "If I was a nobody, they wouldn't talk about me. God sef people dey talk shit bout am".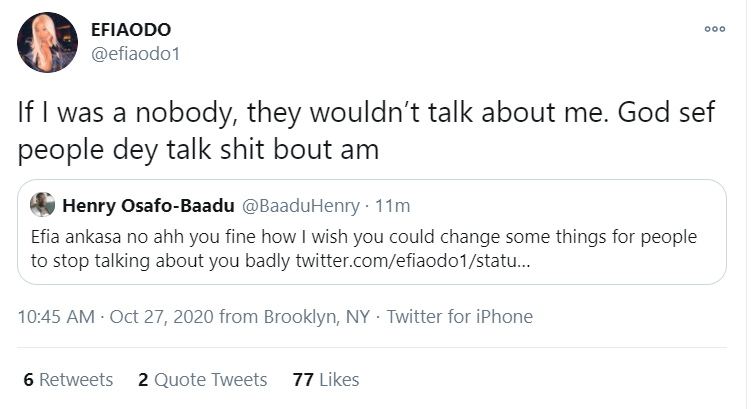 Per the given response, one can tell that the former Kwese TV presenter is not changing her lifestyle on the webspace anytime soon!
SOURCE: Gossips24.com