PHOTOS – Efia Odo Reaches Out To Mentally Challenged & Disabled Children
Ghanaian actress and TV personality, Efia Odo, has a soft spot for the needy and it has really manifested in one of her works sighted by Gossips24.com.
The renowned Tv personality, despite coming under heavy criticisms has cancelled her wrong doings with one good thus by paying a heartfelt visit to Echoing Hills, on Monday, 11th March, 2019.
Echoing Hills is an inclusive residential facility for over 95 persons with disability and vulnerable children.
Efia Odo's foundation, Odo Nti Foundation, reached out to Echoing Hills after one Juanita, who happens to be at the residential facility reached out to her.
Our WCW…
We asked for a visit and she came with gifts, made the children have fun. She encouraged them, danced and talked with them.

it was amazing and a pleasure having you visit us Ms. Efia @efiaodo1 🙏 pic.twitter.com/0KsqRFap4e

— Echoing Hills Village (@EchoingHills_gh) March 11, 2019
After a nice conversation with Echoing hills, the actress and Tv personality surprised them with a whole team and it was joy all over.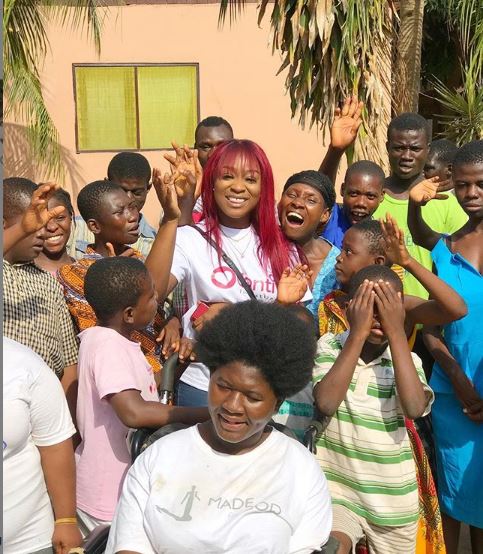 In a post on instagram,
She wrote: "The greatest gift in this world is not money or cars or anything materialistic. It's the gift of love, UNCONDITIONAL LOVE. A love that has no boundaries, no color, no eyes, no limitations. Love is the purest form of happiness. Without love you will cease to be happy. @echoinghills_gh thank you so much for inviting me to meet these beautiful talented intelligent kids. God bless you guys for dedicating your life to these amazing kids. Tell them I love them soo much and we will see each other soon. Thank you team, without you this wouldn't be impossible @schardotvv@schardotvonline @mykcute.trends@mimiforson @odonti_foundation#odontifoundation
BTW the girl in the first pic, her name is JUANITA. She's the one who reached out to me to come pay a visit."
https://www.instagram.com/p/Bu4QSGQBfs-/?utm_source=ig_web_copy_link