Mark Edward Fischbach, known as Markiplier on social media, is an American gamer, actor, and comedian best known for his playthrough videos on YouTube.
Mark has become a prominent gaming star on YouTube and his channel has more than 16.4 billion lifetime views. Mark's channel focuses on play-through and commentary gaming videos specifically featuring survival horror video games. In addition, Mark hosts a number of charity live streams and has raised more than $3 million for charity. 
He co-founded the clothing company Cloak with fellow YouTube star Jacksepticeye.
Markplier Early Life
Markiplier was born on June 28, 1989, in Honolulu, Hawaii in the United States. Markiplier is the son of Cliffton M. Fischbach, a German American who served in the army. His mother is Korean. Markiplier has a brother called Jason Thomas.
Markiplier attended Milford High School where is was a member of the school´s trumpet group. After high school, Markiplier studied biomedical engineering at the University of Cincinnati but could not complete it, he dropped out to pursue a career in Youtube or vlogging.
Markplier Career
Mark Edward Fischbach is a renowned American YouTube star, entertainer, social media personality, and a 'Let's Play' star, better known by his pseudonym Markiplier. He has garnered tremendous fame through his YouTube account 'markiplierGAME' where he posts action video games, indie games, and gameplay commentary videos.
He is predominantly renowned for the different playthroughs of horror and indie games like 'Slender: The Eight Pages,' 'Five Nights at Freddy's series, 'Garry's Mod,' and 'Amnesia: The Dark Descent and its sequel among others. His best-known alter ego or 'the other self' is Wilford Warfstache, who was borne out of one of his sketch comedy videos in which he usually collaborated with Cyndago.
Warfstache has become a representative of his YouTube channel that is marked as the 22nd most subscribed to channel on this video-sharing website with an incredible subscription base of over 19 million. His huge fan following is also evident from over 6.4 million followers on his Instagram account and over 11 million followers on his Twitter account as well.
He was ranked 6th in a list of 20 most influential celebrities among teenagers in the United States in 2015. His popularity can be gauged from the response received by the three videos he posted from his hospital bed in March 2015 related to an emergency surgery he underwent to remove a blockage in the intestine, a sudden exigency that cropped up while he visited his hometown. The videos containing his announcement and updates on the surgery garnered over an incredible 5 million views!
Markplier Wife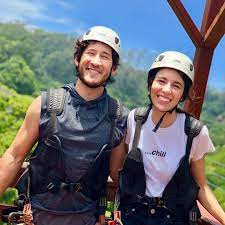 Markiplier is in a relationship with Amy Nelson, a graphic designer, and animator since 2015.
Markplier Net Woth and Subscribers
Markiplier is estimated to have a net worth of $35 million, making him one of the richest and well-paid youtube stars.
According to our analysis, Markplier's channel has over 16.6 billion total video views and over 30.1 million subscribers.