Well wishers who visited the late Osinachi Nwachukwu at the mortuary claims that they heard her singing her song "Ekwueme" every night in the morgue.
This was made known by an internet user called Flourish Ruth Amaka.
According to her, people who paid a visit to the late gospel singer claimed that, Osinachi was heard singing every midnight.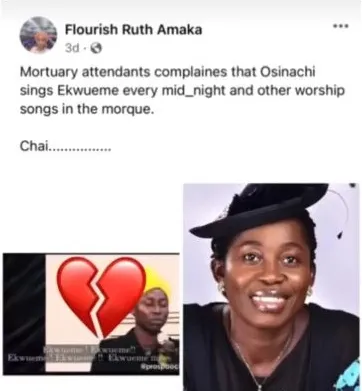 The popular Nigerian gospel musician who is best known for her powerful verse on the Prospa Ochimana's smash hit single; 'Ekwueme' released in 2017 was confirmed dead on Friday, April 8 2022.
Osinachi Nwachukwu died at a hospital in Abuja. According to her elder sister of the late gospel act died as a results of domestic abuse and not of cancer as earlier reported.
People have mixed reactions to the claims of her singing at midnight.