A former Roman Catholic archbishop and cardinal Theodore McCarrick has been defrocked by the Pope after the Vatican found him guilty of sexually abusing minors.
Theodore McCarrick, 88, one of the prominent figures in the church, was defrocked just days before an unprecedented global summit of bishops to discuss child sexual abuse is convened by the Vatican, The Guardian reports.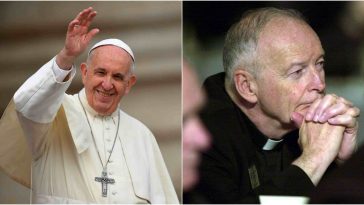 The Vatican's move makes McCarrick the most senior figure to be removed from the priesthood in modern times.
He will no longer be permitted to act as a cleric, and is forbidden to celebrate the sacraments except to grant absolution for sins to a person close to death. Only excommunication is a more severe punishment.
Pope Francis has approved the action as "definitive", meaning McCarrick will not be allowed to appeal, the Vatican said on Saturday.
An earlier Vatican hearing had found him guilty of soliciting for sex while hearing confession "with the aggravating factor of the abuse of power" and ordered his "dismissal from the clerical state".