Police Arrests Notorious Armed Robber Who Hid In A Tunnel After Stealing Ghc 50,000
GraphicOnline reports on a drama that unfolded at Odawna in Accra on Monday when an alleged armed robber descended into an effluence-filled tunnel to escape from his pursuers and refused to come out, despite the efforts by city authorities to get him out.
The police, who later arrived on the scene, used different tactics, including firing warning shots to scare the alleged robber from his refuge, but all to no avail.
All outlets to the tunnel were blocked to prevent the suspect from escaping.
The police had to descend into the tunnel to engage the suspect, who was wielding knives and other implements, in a tussle before he was eventually overpowered and dragged out, to the delight of the crowd that had gathered to witness the rare spectacle.
The entire operation took the police about six hours to accomplish.
The suspect, who is alleged to have stolen GH¢50,000, jumped into the Odaw drain to escape an attack by the mob.
He later managed to locate into the tunnel for safety.
However, when the bare-chested suspect was pulled out of the tunnel soaked in effluence and searched by the police, they could not find any money on him.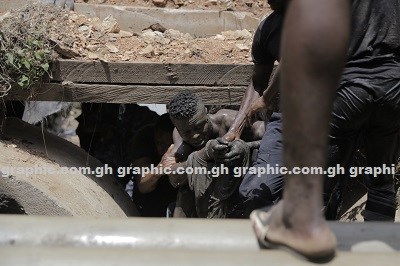 Eyewitness account
According to some eyewitnesses, the suspect, around 6:30 a.m. yesterday, was seen running away after allegedly stabbing a woman and taking her GH¢50,000.
He was hotly pursued by a mob, who wanted to lynch him.
Sensing danger, the suspect jumped into the Odaw drain, waded through the wastewater into a tunnel in the drain filled with effluence and hid in it for close to six hours.
The incident, which attracted a large crowd, caused unusual gridlock on the Graphic Road.
All 'diplomatic' approaches by the police to get the suspect to surrender proved futile, as he was not ready to surrender easily.
Even though some volunteers dared to descend into the storm drain, they lacked the courage to go after the suspect in the tunnel because of his threat to stab anybody who made an attempt.
The police eventually had to resort to the use of tear gas and gunshots in an attempt to scare him out of his hideout.
In a matter of about seven minutes, four shots were fired inside the tunnel, making everyone believe that the suspect, if he was not dead, would surrender.
He was finally yanked out about 1:05 p.m. and sent to the Accra Central Police Station for investigations.