Nana Ama Mcbrown and A Plus are clowns – Angry and pained Mona Gucci fires once again
Mona Gucci has courageously gone after Nana Ama Mcbrown after she exposed her petty lies on UTV last Saturday. Angry and pained Mona Gucci has taken to her Insta stories to bash the reneoned actress, A Plus and co for being the puppets of Afia Schwar.
Before this name calling Mona Gucci had earlier said that McBrown was just doing her job so Ghanaians should allow her name to rest and also cease dragging her name in the mud.
Well, the hardcore slayqueen has trashed her own words since the trolls on the various social media platforms are perhaps too much for her.
According to her, Nana Ama Mcbrown and A Plus served as allies to help Afia Schwar beef her because Schwar can't face her.
She further dared Afia Schwar to also drop the name of the airline she worked for because she also said in one of her interviews that she used to work in the plane.
Take a look at the screenshot below to know more…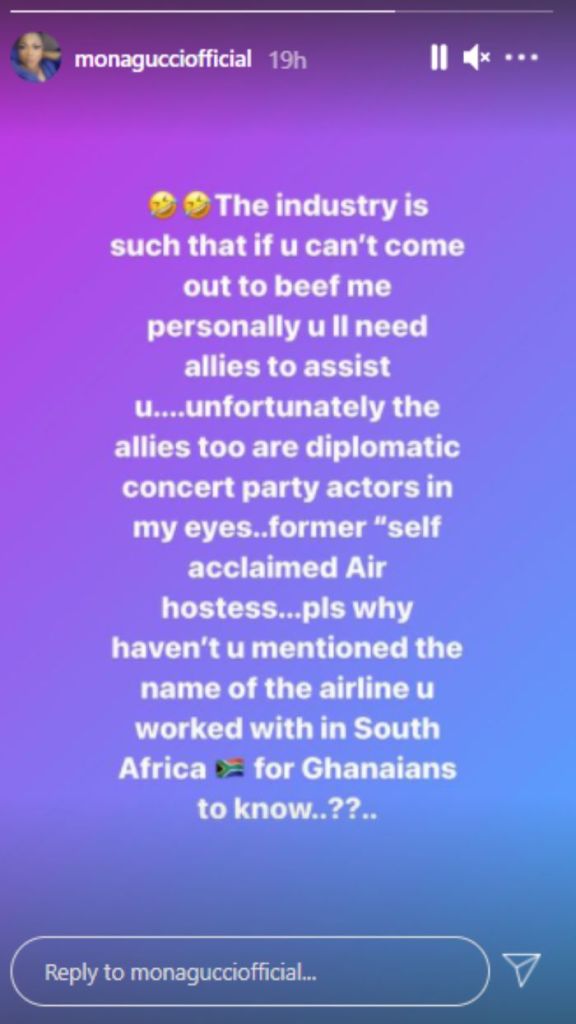 Source: Gossips24.com