Last year over 4,000 people from around the world gathered at the Afrochella Festival in Accra, Ghana to celebrate diversity among African cultures.
With performers, food, and attractions, Afrochella is not so different from California's annual Coachella Festival, except for one very important note: it's created by black people and largely for us as well. Coachella is a majority white space where, while individuality and cultural expression are generally encouraged, being a black person in the space can sometimes be uncomfortable.
In a 2017 op-ed for Teen Vogue, Terri Burns documented her experience as a black woman at Coachella. She and her friends were there specifically to see Kendrick Lamar. His music moved them enough to travel to the desert to see him perform. What they couldn't anticipate, she wrote, was the onslaught of "stares, hair-touching, and comments."
"For the Black folks I did encounter throughout the weekend, I experienced the all-too-familiar sense of solidarity, support, and appreciation," she wrote. "We, of course, gave one another the infamous Black Nod when passing each other."
Afrochella co-founder and organizer Abdul Karim Abdullah and his native Ghanaian team did not anticipate the huge cultural impact of the festival, seeing attendees from as far as Europe, Canada, Australia and more. They simply wanted to create a space for others to learn about different cultures in Africa, but also give people on the ground the opportunity to network and showcase their skills and talents in creative spaces.
"Everyone knows about Ghana or about the tribes but nobody knows about the houses, or the Gods and the different cultures there," he said. "So giving people the opportunity to learn about them is what Afrochella is trying to do," Abdullah said.
Recently, Ghana's President Nana Akufo-Addo declared 2019 as the Year of the Return of the African Diaspora, encouraging anyone of African descent to make the journey back home as part of their birth-right. Ghana is the first African country to allow people of African descent from all over the world "to live and to come and go into and from the country without let or hindrance."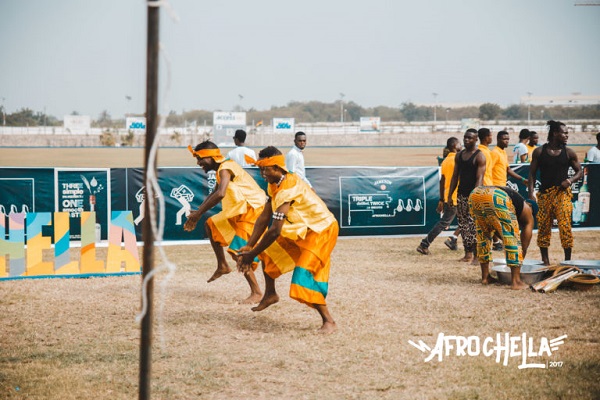 "It's amazing. This is an opportunity for people who don't feel like they connect to any culture other than American culture," Abdullah said. "If Afrochella can help get more people to come back to Ghana, then we've achieved one of our goals."
The team partnered with large brands as well as several local businesses, all committed to boosting tourism in Ghana. Attendees will be able to enjoy a special live performance from Ghanaian artist Daddy Lumba and the Lumba Band. Attendees will also be able to dance to the sounds of Afrobeats music while painting with Paint Boire, similar to a paint and sip.
The Afrochella festival will take place on December 29th at the El-Wak Sports Stadium from 12-8 pm.
Source: legacy.travelnoire.com