Hon Kojo Oppong Nkrumah gave Serwaa Amihere STD after chopping her – Bombshelli alleges (Screenshot)
If we would recall some few months ago, GHOne Tv presenter, Serwaa Amihere became the talk of  town after she was given a tough time by Information Mininster, Kojo Oppong Nkrumah.
During an interview session on GH One TV with Ghana's Information Minister, Kojo Oppong Nkrumah, Serwaa Amihere quizzed the minister about why Ghana's president Nana Akufo Addo was not interested in punishing wrongdoings citing the Ayawaso Woguon violence issue as an example.
Serwaa also indicated that various forms of punishment had been recommended to be meted out to the culprits and was surprised the President had not resorted to that.
After the public banter and name-calling, it has been alleged by Snapchat user who goes by the name Bombshelli sel that the two ironed their differences in the bedroom with a hot marathon of s3x.
According to Bombshelli Sel, Serwaa Amihere even contracted STD from Kojo Oppong.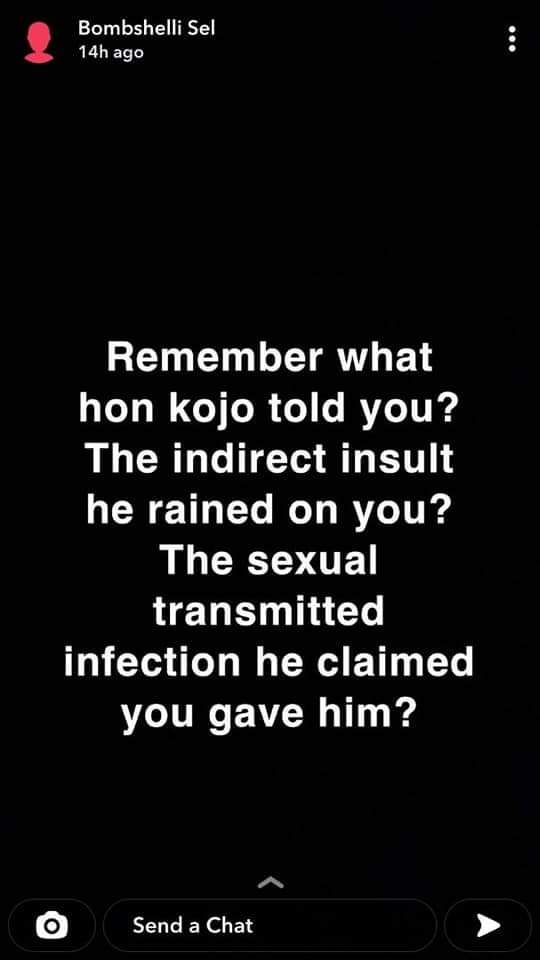 At the moment Serwaa Amihere is sweating like a pregnant frog because the dirty secrets Bombshelli Sel has dropped about her are disgusting.
Source: Gossips24.com