Funny Face exposes Victoria Lebene's husband for having a secret baby mama (+screenshots)
Popular Ghanaian comic actor Funny Face is still on the trend list following his feud with Maame Yeboah Asiedu over his baby mama.
To prove a point and gain some solidarity from netizens, Funny Face took to Instagram to share a series of videos to reveal how evil Maame Yeboah Asiedu has inducted his baby mama to turn against him.
One of the videos tried to communicate the fact that the comedian had been abused verbally and physically by his baby mama in the presence of some family members.
Ghanaian blogger, Eugene Osafo Nkansah, alias Nkonkonsa, who happens to be the husband of Victoria Lebene siezed the opportunity to report on the comedian's story… sharing the video, he wrote; 'Comedian @therealfunnyface rants again about the mother of his twins and also sent a strong warning to Maame Yeboah Asiedu.'
Apparently, Funny Face who is a staunch follower of the blogger took to the comment section to air his displeasure over the use of 'rant' in the caption by the blogger.
What perhaps got Funny Face furious was the fact that he'd personally explained things to the blogger so he least expected him to write something of the sort about him.
He also revealed in the comment section that Nkonkonsa also has a baby mama… one aside popular Actress, Victoria Lebene.
Funny Face wrote, 'Rants again ? Really bro @nkonkonsa when u know some of da things .. cos I remember I brushed it with u some time ago .. but because of likes and views .. you are here saying am ranting !! ? Woy3 aboaaa piiiiiiii … siaaaa .. don't let me bring ur baby mama in .. what's her name again ? I shy for u sef .. u blog abt people and talk abt people but what is in ur closet is worse dan odawn trumu 😡🧨🔥🔪'
Check out the screenshot below;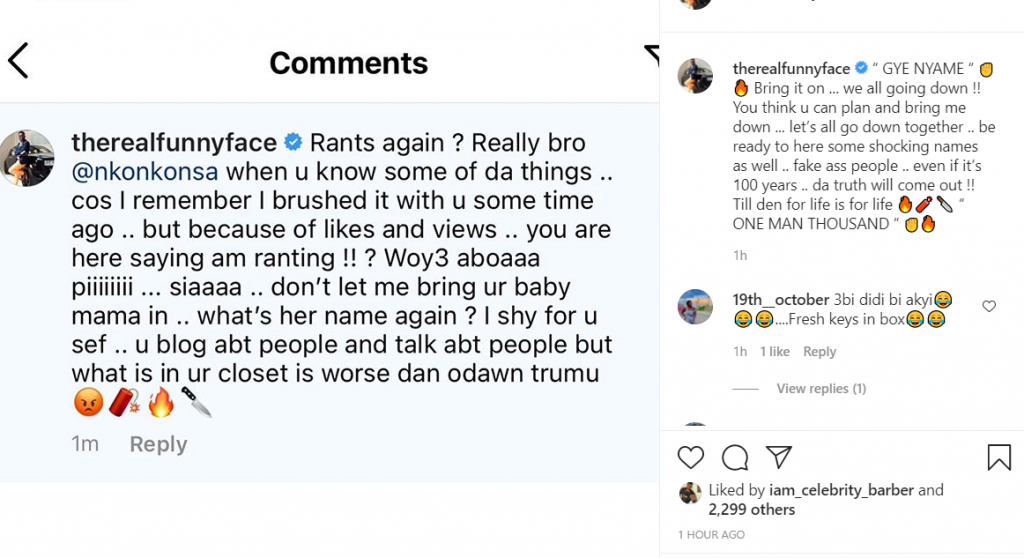 SOURCE: Gossips24.com