Biography of Akrobeto; Real Name, Age, Career, Cars, Awards, Family, Contact
Akwesi Boadi professionally known as Akrobeto or who "nose" tomorrow is a Ghanaian actor, comedian, and TV presenter. He has been featured in over 100 Kumawood movies and is better known for the size of his nose.
Akrobeto Early Life
Akrobeto with the real name Akwesi Boadi was born on November 18th, 1963. He hails from Akim Oda, in the Eastern Region of Ghana. He is the last born of his parents and the child who is alive.
Akrobeto Education
He started his basic school at Akyem Ayerebi L/A primary and Middle School and completed it in the year 1979. Even though he didn't pass his examination, his talent made him popular and loved by many.
Akrobeto Career
Akrobeto Started to have fame from the Kristo Asafo foundation by Apostle Kwadwo Sarfo in the late 1990s. He used to perform regularly at every concert party.
Akrobeto always says that Kumawood has paid him off even though people claim there is no money in the Ghana Movie industry. He acquired his houses and automobiles with his career in life.
He later in 2018, joined the Despite Media (UTV) as a host of the popular entertainment news "Real News" and has since been with them.
Akwesi Boadi has featured movies like;
Chain Of Death
Akrobeto The Grand Master Of Evil
Akrobeto The Evil Bird
HWE WANO ASEM YIE
AKROBETO Back to school
AWO YAA KYIEWAA
Asan bi ye Nhrabea
SUMENA SO ADIE
Akrobeto No Abɔnefoɔ ɔberɛmba 3
Akrobeto Taxi Driver
AHENKAE
Ma Yenfa To Woso
Pastors Club
Sorantie Pastor
Away Bus
Things we do for love
Akrobeto Wife
Madam Georgina Johnson is the wife of Ghanaian actor Akwesi Boadi.
Akrobeto Children
Akrobeto is blessed with 3 sons who live in Gent, Germany after they acquired their education in Ghana.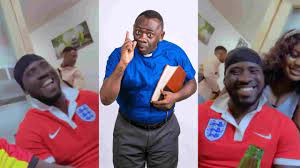 Akrobeto Awards
In March 2021, he emerged as the overall Entertainment Personality of the Year at the Entertainment Achievement Awards
Akrobeto House and Cars
Akrobeto rides in one Ghanaian made car by Prophet Kwadwo Sarfo and a Hummer awarded to him by Nana Agradaa
Akrobeto House
Akwesi has two houses.
One in the Ashanti Region and another in Greater Accra Region. All of which is made up of eight bedrooms.
Akrobeto Networth
Akrobeto net worth is estimated as $180,000.