Ghanaian media personality cum comedienne, Afia Schwarzenegger has been tagged as a bad mentor by a social media user.
Apparently, Afia Schwar is on Itrying to claim a spot in the lives of the Despites as she keeps on showering praises in her posts, especially when she posts something related to Kency.
Well, in a recent post, the vulgar celebrity, Afia shared a photo of Fadda Dickson and Kennedy Osei Asante with the caption, "My family .. my mentor n my baby bro…SIMPLE 💖💖💖💖💖 ."
A follower of Afia quickly commented that Afia is also her mentor and that she loves the comedienne so much.
"Love you mummy you are all so my mentor". But another netizen made a painful but true statement about the follower looking up to Afia as her mentor.
He replied, "then your future is cursed if @queenafiaschwarzenegger is your mentor, I pity u lil girl."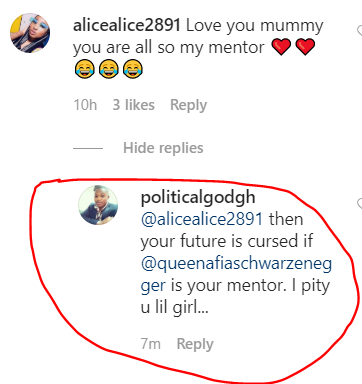 There are many reasons why Afia cannot be a good mentor, and we think the guy is right looking at the kind of things Afia says and the lifestyle she lives on social media – there seems to be nothing good to learn from her.