Western Togolanders unveils their fully armed military unit who would be fighting to reclaim their "motherland" (video)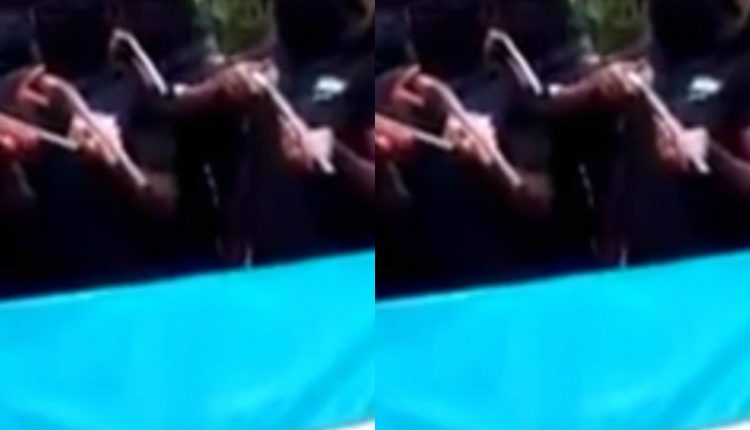 A fast trending video which has surfaced online shows a group of armed men calling themselves the Dragons of Western Togoland military army.
These supposed trained military men has sent a note of caution to Energy Minister John Peter Amewu, Volta Regional Minister Archibald Yao Letsa and the MP for North Tongu, Mr Smaule Okudzeto Ablakwa, that it will move to take over theier motherland in the next 21 days.
Sighting from the viral video which has caused extreme fear amongst Ghanaians, some masked men who are believed to be part of the Dragon military unit were clothed in black shirts on dark-green trousers holding the Western Togoland flag
According to a yet unidentified man who was speaking in the video, they have 4,300 trained men in neighbouring countries who are ready to invade parts of the Volta Region to claim their motherland.
About 4,300 Dragons are trained in a nearby country; they're ready to enter into their motherland, Western Togoland. They're not rebels, they're not militants. They're well-, fully-trained soldiers, so, nobody should be afraid of them. They're coming to deliver their motherland, Togoland", the male commanding voice is heard saying.
He continued: "They're the ones who will rescue their motherland from the hands of the slave masters.
They've been a slave to the Gold Coast, Ghana for years; they are not militants. What's annoying them is that the people of Gold Coast, Ghana, are arresting their people for no reason. They're shooting people and several people have been injured. About 4,000-plus persons have been trained in another country to rescue their motherland,
The voice behind the video also begged the chiefs and leaders of the various communities in the Volta Region, not to be deceived by anyone who offers them money, in cedis or naira, to work against their mission.
Kindly watch the video below to know more.
Source: Gossips24.com