VGMA23: Video Of Serwaa Amihere Questioning Abena Korkor On Red Carpet Drops, Fans React To Their Behaviour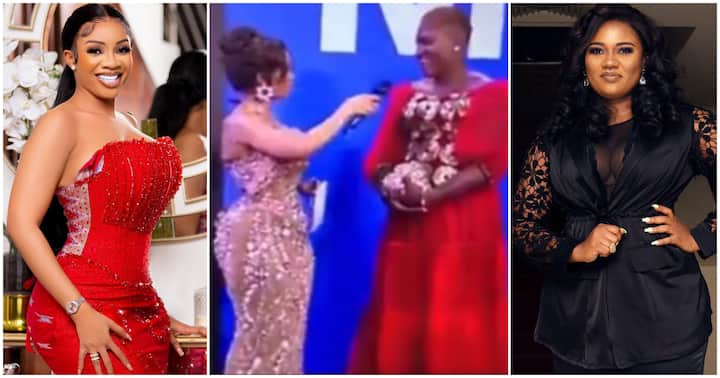 The 23rd edition of the Vodafone Ghana Music Awards (VGMA23) came off at the Grand Arena in Accra over the weekend.
The two-day event held on May 6-7 brought up many interesting moments.
One of these moments happened to be a rare face-to-face interaction between GHOne TV's Serwaa Amihere and Abena Korkor.
Abena Korkor is known to have been bad-mouthing Serwaa Amihere and making allegations that suggest she (Serwaa) is into amorous relationships with a number of prominent men in Ghana.
In November 2021, Korkor apologised to Serwaa and her mentor, Nana Aba Anamoah, for apparently making false claims against them.
At the time, Nana Aba revealed that Serwaa Amihere had been hurt by the false claims and even cried over them.
Barely five months after the apology, Abena Korkor was reported by Pulse Ghana to have gone back to make the same claims and even added new allegations.
With such a history, many thought a meeting between Serwaa and Abena Korkor was going to be problematic. But it was not so when they met at the VGMA23.
Serwaa who was one of the hosts for the red carpet segment of the event showed a lot of maturity as Abena Korkor appeared in a red dress. Serwaa asked questions in the most professional way.
From the video, it is difficult for one to notice that there has ever been a problem between the two. If anything at all, it was Korkor who looked uneasy.
See below for the video as shared on Instagram;