Gossips24.com informs on a sad news, as a male student of the University of Winneba commits suicide over the death of his girlfriend.
The unidentified level 100 English student is alleged to have hanged himself at the North Campus at the early hours of Saturday behind the school's Simpa Hall Block "B".
Police arrived at scene and stopped people from taking pictures of the body.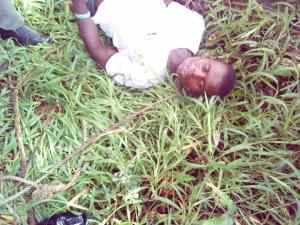 According to sources closer to Gossips24.com, the real cause of the suicide has not yet been established but rumour has it that, his girlfriend from Kumasi came to visit him recently got sick and was sent to Trauma Hospital where she died.
The deceased was apprehended and was writing exams under police escort.
Lecturers went to bail him and was getting ready to face the court that was when he got the time to hanged himself out of frustration, depression and guilty conscience.
Another rumour on campus has it that deceased due to the unfortunate happenings didn't prove his best during the exams leaving him with fears of failing three papers.
As to which of the stated reasons is the truth behind the death of the unidentified student, Gossips24.com can't tell, but we assure you of uncovering the truth as we always do.
Visit us for more news.