Former girlfriend and baby mama of Davido, Chioma Avril Rowland has said Sanitary pads for women should be free.
Chioma made this known in a post she made on her Instagram page.
In the post was written;
"Sanitary pads for women should be free"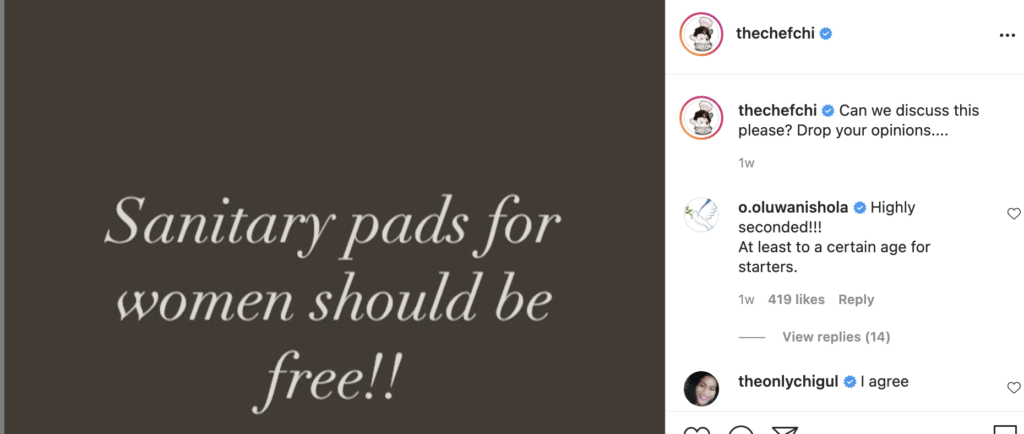 After Chioma made the post, it has gotten social media users talking about it.
Some of the reactions are as follows;
o.oluwanishola – Highly seconded!!!
At least to a certain age for starters.
theonlychigul – I agree
calabar_chic – Absolutely free!
THE PRICES OF SANITARY PADS!!!!! Keeps increasing everyday
A lot of families can't even afford a good meal talk more of getting pads for the daughters
Reason I started the @pad_our_girls project!
If condoms can be given out for free…. Sanitary pads should too!
cindyokafor_ – Abi oo
comedianebiye – Yes it should be but unfortunately we sell even the free est of things , schools should take it up to have an adequate supply for the girls , but realistically speaking a group of serious minded people can make this happen without waiting for the government
realbriamyles – Yessss
lahadeeluxury – Honestly… pad prices keeps increasing and I'm like whatttttttttt????
_debbbbie – Not everyone can afford it!
she_is_arret – It's sad because some people still use rags so I think it should be free and available to everyone 
itsablessingg – Makes no sense for us to pay for something we can't control 
ibhade.ee – But yet it's super expensive for the average girl child.
SOURCE: Gossips24.com