Salma Mumin mourns her dead friend whom she was not in good terms with for three years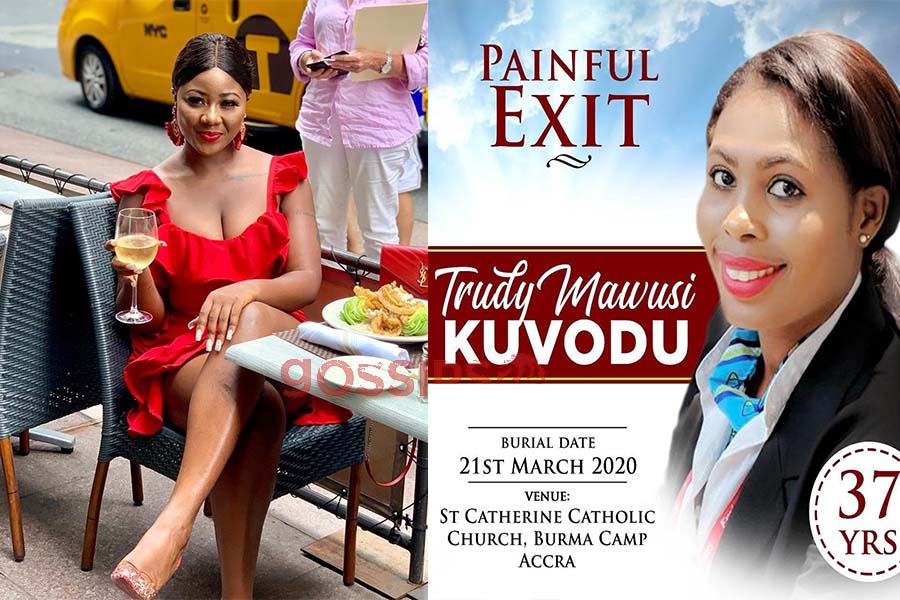 Many people forget their friends and ignore them to rot when they start making some cool cash, and Salma Mumin has been a good example of such people.
Salma has a record of ignoring all her friends, especially those she hustled with before she started hoeing around in the name of being an actress or a celebrity..hush!
Now here comes the almighty Salma Mumin once again spilling her own beans and disgracing herself on social media since she is now making it known to the world that she is indeed a sucker and a great hypocrite.
Waking up to a fresh Instagram post from Salma, she revealed she wasn't in talking terms with her dead friend, Trudy Mawusi Kuvodu, for 3 years and had decided to make things right but due to her busy schedule, she still couldn't make peace with her.
Salma's shady excuse was that she was busy with work and couldn't make peace with her but she had the time to post her obituary poster on Instagram and write a tribute to tell the world how she misses her…. that's stupid.
Read her dumb message below:
" HMMMM TRUDY! YOU SHOCKED ME!
YOU ACTUALLY LEFT WITHOUT A WORD.
Hmmmmm even though we stopped talking for over 3 years, rating all my relationships with friends, I think you are still the best BESTIE God brought my way.
Hey I knew you loved me regardless and I did too.
ON THE 31st of last year I went to church and they gave me a sheet of paper to where down my new year's resolutions.
YOUR NAME WAS ACTUALLY ON THAT PAPER TRYDY! Said to myself I needed to talk to you this 2020, I got so busy in January working on launching @lure_by_salma and @salmamuminfoundation and the rest. The intention was to come find you this February and invite you for the launch of @lure_by_salma only for you to put me in this kind of shock. Trudy you didn't try 😩😫 how do you expect me to feel about this whole situation Trudy? How? I miss you so much. #rip we definitely meeting again. 💕 "
What are people saying about Salma's post?
Most of Salma's followers think she is just a hypocrite and sometimes more of a golddigger, making friends with people she can benefit from – an opportunist.
Since she ignored all her childhood and good friends who were always cautioning her with respect to her ashawo lifestyle, people also think all the rumours might be true after all.
Here are some of the comments;
ella4sam: Personally I think that if you truly love someone or value their relationship, there no way you will procrastinate in getting in touch with them. You will surely find time
princessalt22All what you have said here is baseless and I totally condemn it.. what are you trying to say here? My sister if this girl was still alive trust me you will never talk to her or reunite with her till 2030.. well my condolences to her real friends and family
fofohpi; This post should have been solely dedicated to her without you tagging your endorsements for form of advertising in this supposedly sad time of yours . Let's all remember life is too short to hold grudges . Rip
mz_naa_berry; The first thing u should have done after close of 31st service was for you to send her a txt or call before u even think of the lunch🙁,May her beautiful soul Rest In Peace and my condolence to u too dear🙏🏾
JOIN THE FUN, SHARE THIS !!!