RAPE NYAME: Kwadwo Sheldon and Teacher Kwadwo dirty each other again as screenshots of Sheldon threatening to rape people pop up
Currently, Kwadwo Sheldon and Teacher Kwadwo have taken their beef to a whole new level despite coming to a resolution in the studios of Okay FM yesterday.
Both content creators have been on each other's case for a while now, and it's surprising at all as they both competed for the same award in 2020 at the just ended NCA Awards which saw Teacher Kwadwo crowned Social Media Content Creator of the Year.
Yesterday, veteran media personality, Abeiku Santana decided to resolve the conflict between both parties after a heated interview session in the studio of Okay FM – a photo saw both influencers exchanging pleasantries.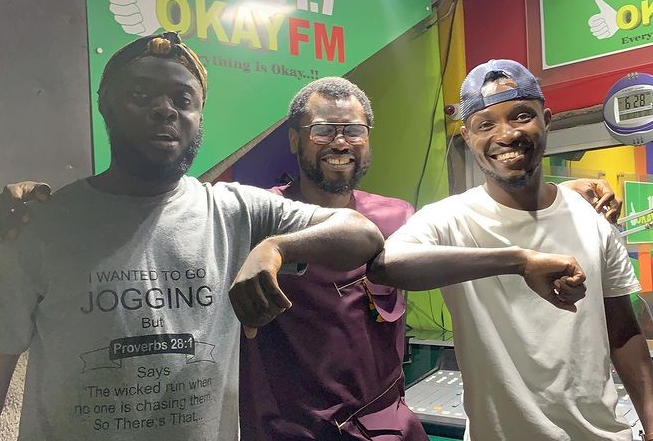 Just when we thought all was done and dusted, Kwadwo Sheldon rekindled the feud with a damming screenshot from 2016 which had Teacher Kwadwo passing some pedophilic comments on Facebook.
The said comment made by Teacher Kwadwo four years ago, is reported to have cost him a huge deal he had with Huawei alongside five other deals which nearly cost him his career.
After bringing back those haunting memories as a comeback in their beef, fans of Teacher Kwadwo on Facebook have also dug deep to unravel some comments and threats Kwadwo Sheldon made on Facebook about 7 years ago, three years older than Teacher Kwadwo's comments.
In one of the screenshots, Sheldon said, "there is nothing like R*pe its called surprise s*x"
In another screenshot, Kwadwo Sheldon, again in 2013 made a post on Facebook insinuating that he has "#rape tinx" on his mind while issuing a warning to one Gel Phosuaah Acheampong asking her not to dare his hostel.
As if these two screenshots weren't enough, netizens brought up another screenshot of Kwadwo Sheldon telling one Pyper Pyper Pebbles he was going to r*pe her one of these days, and this was in 2014.
These screenshots have led to Twitter users quizzing who is actually Rape Nyame since both parties have something in common.
SOURCE: Gossips24.com