Like we said, Gossips24.com will be updating you with the inside story of the 'fresh beef' between Shatta Wale and his friend Pope Skinny.
The beef is getting hotter and intriguing every minute as both parties reveals each other's secrets.
Pope Skinny earlier today released a song for Wale and also revealed that Wale does drugs like many has been saying and urged Ghanaians to pray for him.
Wale who's a well known 'King of Beef' has however come out to say that Pope Skinny is a rapist and has raped a Canadian girl who will soon come after him.
Wale who has been throwing jabs on Snapchat since the beef started wrote:
"POPE SKINNY THE RAPIST…THAT CANADA GIRL WEH U RAPE GO SEND FOR YOU SOON!! ABOA BA"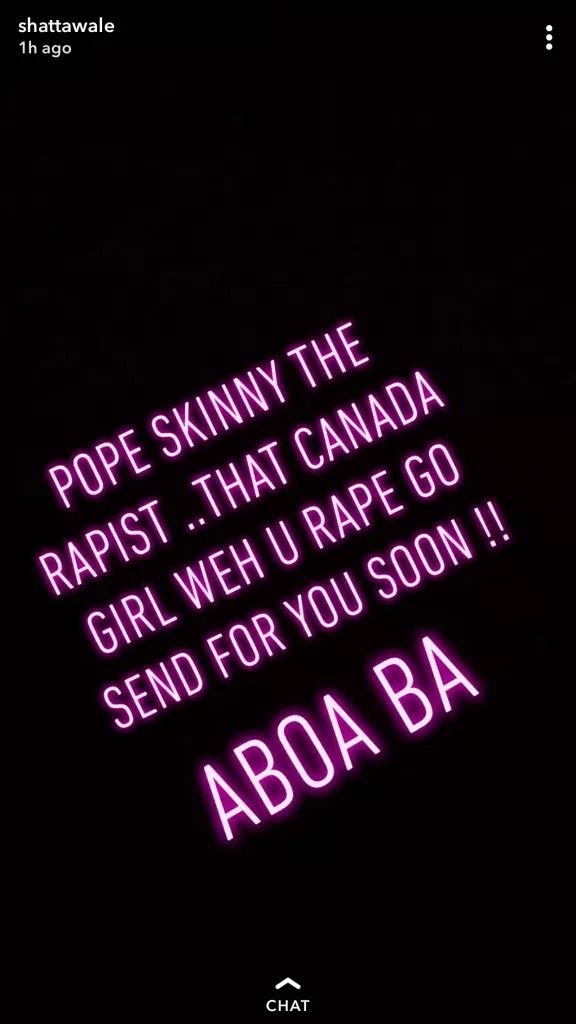 The way things are going, many believe if care is not taken this beef between a 'drug addict' and a 'rapist' will turn bloody.
We pray nothing of the sort happens, but be rest assured that, whatever happens Gossips24.com will keep you posted.