Medikal Loves His Woman Dark Skin And Pretty'- Fella Makafui Throws Shades At Sister Derby
There is a saying that only the fittest survives on a battlefield. So is the case of Fella Makafui, Sister Derby and Medikal.
Several Ghanaians keep accusing Fella Makafui for being the reason why Medikal broke up with Sister Derby and in return, she(Fella) also keeps 'clapping back' at those accusations.
For a fact, one reason which got Medikal attracted to Fella apart from loving her is the fact that she's a good cook; Fella cooks for Medikal and his friends while Sister Derby never did that because she was a bad cook; don't forget the saying that the way to a man's heart is through his stomach. Lol
In a recent post by Fella on Instagram, she could be seen wearing one of her pretty dresses from her clothing shop and the caption to the post caught our attention the most.
She wrote,
"He Likes His Woman Dark Skin And Pretty Af."
'He' in the context above is definitely referring to her man Medikal, and we know sister Derby is fair in complexion hence she is only trying to remind Derby why the AMG rapper left her.
Below is a screenshot of her post below; check it out and share your thoughts with us.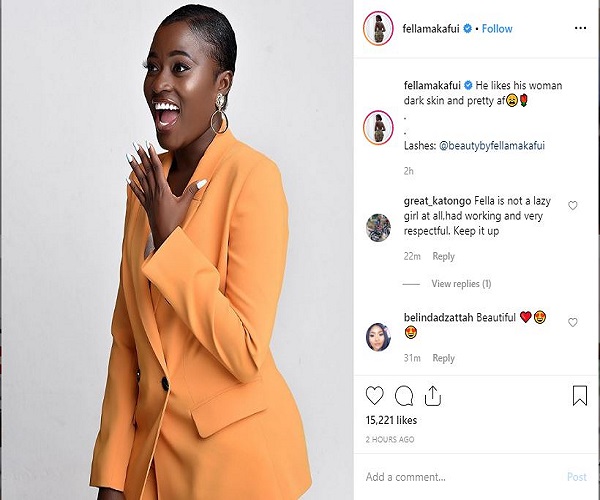 Source: ghbase.com