Kotoko player puts 'JUJU' in his mouth during their game against Aduana Stars (videos)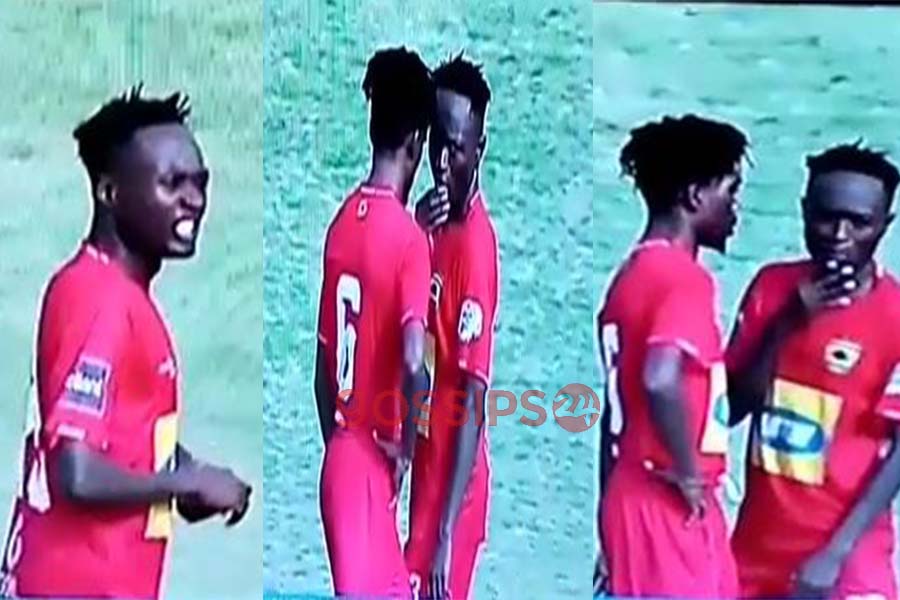 The midweek edition of Ghana's Premier League saw the most interesting happen on the field of play during Kotoko and Aduana Stars' match as a player was seen with juju.
Dormaa was heated as the two sides clashed in the First Capital Plus Premier League yesterday, Wednesday, February 19, 2020.
Though Kotoko lost by a goal to nil, their loss, some believe was due to the failure of black magic – juju.
One player, Cristopher Nettey who wears the number 23 jersey was seen putting something in his mouth during the game, and many believe it was juju.
What raised suspicions was how Nettey tried so hard to prevent the cameras from capturing what he was doing on the field by using a teammate to disrupt attention, but it failed.
After putting the juju in his mouth, Nettey made a run into the goal post of Aduana Stars but was stopped on his way and given a stern warning.
The referee complemented the warning with a yellow card as Nettey made a u-turn into Kotoko's half. Apparently he was going to drop whatever was in his mouth in the goal post of Aduana to aid Kotoko in winning the game.
WATCH THE VIDEO BELOW:
JOIN THE FUN, SHARE THIS !!!