Criss Waddle and SnapChat Queen, Nella Sparks are allegedly in a relationship, Gossips24.com has observed.
For some time now, Criss Waddle has been off the portals focusing on his real estate business, but it appears that is not the only thing keeping the AMG boss busy.
Apparently, Waddle bought three sneakers – a white oreo Air Jordan 4, a cloud white Yeezy 450, and a dark slate Yeezy 450 – on Wednesday.
As sighted by Gossips24.com on the rapper's Snapchat, all the shoes were lined up on their boxes.
However, within some few hours, the cloud white Yeezy 450 had appeared on the foot of Nella Sparks who showed them off celebrating how comfortable they felt on her foot.
She wrote, "I'm about to abuse these.. too cute & comfy!"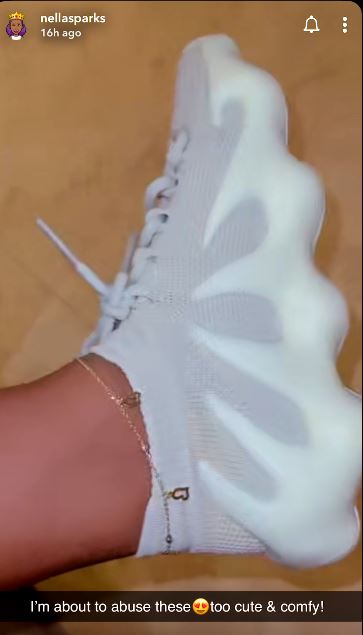 From Nella's inscription it's obvious she got the sneaker from Criss Waddle.
But what on earth will make Waddle give a $551 (Ghc 3,320) she to a lady he has no relationship or bed-game with?
SOURCE: Gossips24.com