Charles Nii Armah Mensah known by his showbiz name Shatta Wale has finally admitted that he likes insulting his colleagues in the music industry and has given reasons for his actions.
According to Shatta Wale, during his Bandana days, he was very respectful and that made him poor because people took him for granted those times.
But realizing his mistakes, he switched to his current state and now his colleagues see him to be a threat because he is richer than most of them.
He posted;
"I use to respect everyone in the industry when I was Bandana

And they took me for granted and I lived a very poor life ..

But as I changed I made enough money than any many of my colleagues who now see me as a threat cuz they still have that notion at the back of their minds that if you don't respect you won't go on..

My guy what am doing is called FORMAT !!!".
See screenshot below: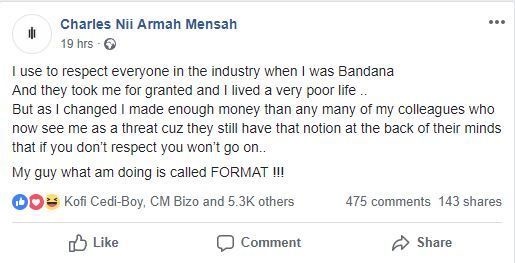 There you have it Shatta Wale thinks being respectful in the industry would rather make you broke.