Funny is not innocent as Ghanaians see him, he is a wife beater- baby mama claims Funny Face abused her
Funny face who is always ranting on social media for being mistreated by his wife has turned out be the the real demon in the whole messy issue.
According to the mother of Funny Face's twins in an interview with Zion Felix, she was abused physically by the comedian actor even when she was pregnant with his third child.
Vanesa who is the baby mama of Funny stated that she was beaten "basabasa" by the actor and that made her to leave the abusive marriage and take along the kids Ella and Bella.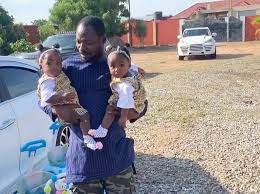 Vanessa added that she has been mute on the issue because she is still the mother of Funny Face's children.
Source:Gossips24.Com