Family sanitizes daughter before allowing her home over coronavirus fears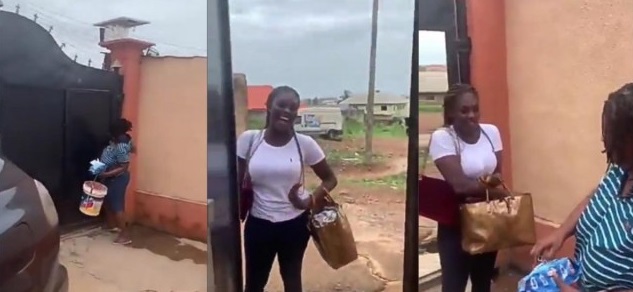 Apparently, the outbreak of the novel coronavirus has really changed the way we live in our society now.
A Twitter user took to the platform to share a video showing how her family welcomed her sister when she returned home.
In a viral video, the lady came back from the city to his family home. She was met at the main gate my her mom and dad. They brought along hand sanitizer tissue which she used to fumigate her mobile phone and hands.
They also asked her to bring out her phone so it could be wiped down. When they were done wiping her down, they allowed her to go further into the compound, but not into the house. They then asked her to drop her bags outside for further cleaning.
The Twitter user who shared the story revealed that her mum is a microbiologist and she mixed sodium-hypochlorite, Dettol and ethanol, and added the solution to the wipes to make it effective in killing germs.
Watch the video below;
JOIN THE FUN, SHARE THIS !!!