Controversial yet highly in-depth entertainment critic and showbiz pundit – Arnold Asamoah Baidoo has crowned rapper, Obibinii, as the winner of the beef between the Zylofon signed artiste and Amerado of the Mic Burners music cult.
The two heavyweight rappers have had it tough on the internet for the past few days after Amerado jabbed Obibinii in the applaudable freestyle he delivered on Tim Westwood's show.
Obibinii who viewed Amerado's deep swipe at him as insolence to the greatest degree was the first to hit the studio to drop a diss song for the Me ho y3 hitmaker dubbed "Deceased".
Since it's a rappers feud, Amerado replied to the "Deceased" diss song with "Throne" which is currently trending on various social media platforms.
After receiving heavy and solid punches from Amerado in his "Throne" diss song, Obibinii stormed the studio once again to put in more pepper to his earlier released diss song – This time around, he described Amerado as "Carcass".
In this fresh diss song, he went all out as he punched Amerado left-right-centre with all his lyrical prowess.
Seemingly, Amerado has been technically knocked out because he has failed to reply to the second diss song from Obibinii.
Although, many social media users have crowned Amerado as the winner of the beef with the submission that his first diss song did Obibinii more than dirty so he shouldn't bother replying to his carcass diss song.
Arnold on the other hand has a contradicting view to that of the populace, according to him, Obibinii is the victor of the beef because he was able to give it back-to-back to Amerado.
According to Arnold, Amerado lacks the experience and stamina to be in a bloodshed lyrical war with Obibinii reason he has gone into Ignnito mode following Obibinii's second diss song.
Check out the screenshot below to know more…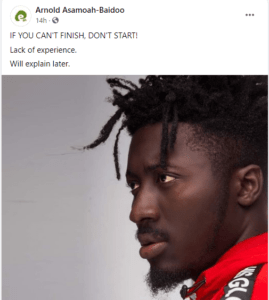 Source: Gossisp24.com