JOIN THE FUN, SHARE THIS !!!
CEO of GB Interactive LLC, George Britton has disclosed that Stonebwoy has fianlly rendered an apology to Sarkodie's manager, Angel Town for assaulting him.
On Monday, August 10, 2020, a fracas is said to have ensued at the rehearsals grounds following a misunderstanding between Stonebwoy and Angel Town.
The fracas led to Angeltown suffering from bruises at his left eye. Stonebwoy is again alleged to have pulled a gun during his scuffle. 
Well, a post by George Britton on Facebook indicates that the two have settled their differences and are back to 'default settings'.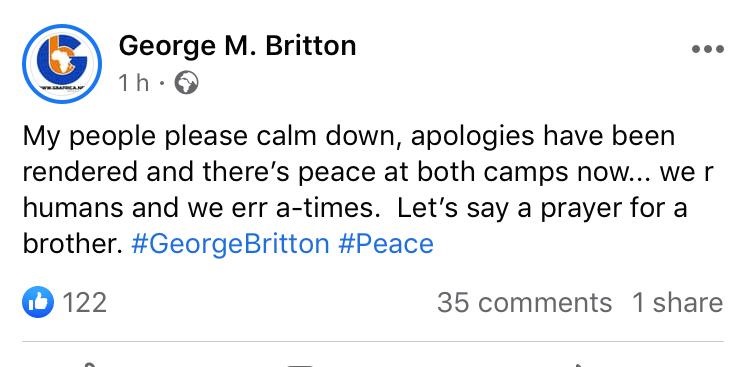 Stonebwoy, Sarkodie, and manager Angel Town have taken over social media and news trends following a confirmed report of an assault.
Popular entertainment pundit, Ricky Rick first leaked the information to the general public on his Facebook page.
Source: Gossips24.com
JOIN THE FUN, SHARE THIS !!!