Veteran Ghanaian musician Ben Brako and Wife have justified a semi-nude photo that received backlash on social media last year.
The couple was seen huddled in semi-nude fashion, claiming to project "the beauty, artistry and African high culture that it truly represents".
The backlash from fans was probably because of the respect many have for the legendary highlife artiste.
But speaking to Johnnie Hughes on TV3's New Day on Thursday, wife of the musician Dr Efua Brako said she found nothing wrong with the picture since the exposure of legs, arms and other parts of the body cannot be different from exposing the abdomen.
"I am like if I expose my face, you don't have a problem with it, my arms, legs, no problems…why is it a problem showing my abdomen?" she wondered.

"It's all part of the body, isn't it?"
She explained that it was an idea of the two of them and they are okay with it.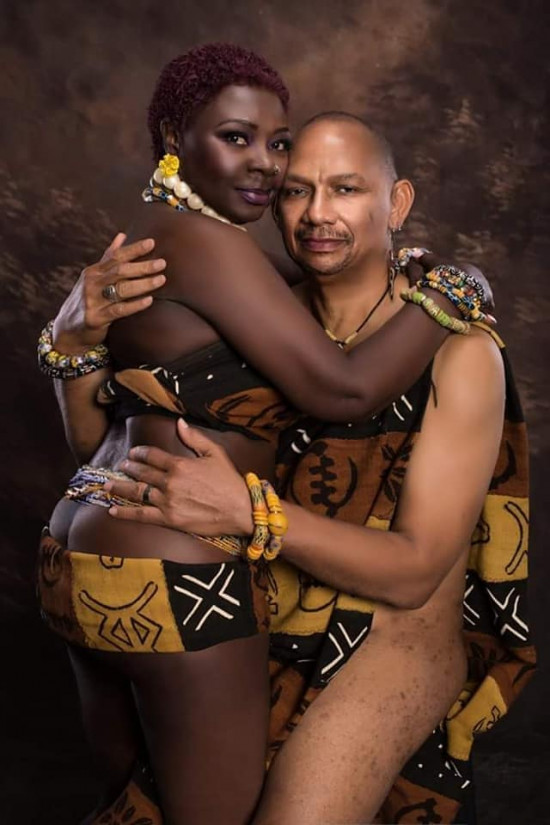 The Mawie M'agro dzi hitmaker backed his wife and said there is no straightjacket way of dressing for artistes like him.
For him, he wants to be real and now spotting ear ring is an expression of that.
He said a doctor friend of theirs has even used their so-called obscene photo as his wallpaper and has high praise for it.
"We stress ourselves over nonsense when the substance itself is there."
He said efforts should rather go into changing of mindsets like singing the national anthem in Twi, for instance.
Watch full interview here: