I awarded D-Black based on his bedroom skills and not because of his music – Dr UN speaks after watch D-Black's atopa video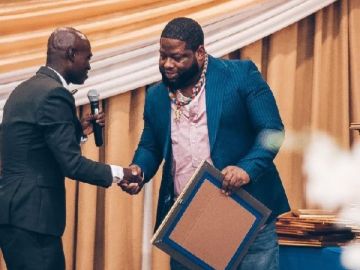 Dr Kwame Fordjour alias Dr UN who became an overnight sensation after he got busted for being a fake UN rep and presenting Ghanaian celebs with fake citations and phoney awards.
Has commented on D-Black's trending atopa video after it forcefully penetrated into the impenetrable Ghanaian digital space.
According to Dr UN, he awarded D-Black based on his atopa powers and not because of his wack music.
As bragged by Dr UN, he foresaw that D-Black's bedroom video will be landing on the digital space soon so he thought it wise to award him before the inevitable disgrace happens.
Dr UN also added that he got impressed by D-Black's tongue game after watching the circulating atopa video himself.
Meanwhile, the lady who was captured riding D-Black in the bedroom video has alleged that, a notorious thief who stole her phone last month leaked the 18+ video online.
Source: Gossips24.com